A nightmarish experience with grooving and conventional treatment--
Yvonne Welz's mare, Inty:
Inty foundered 5/24/99. Heartbar shoes were put on the same day. She was kept stalled constantly in a deeply bedded stall. On 4 butes a day for 3 months; 1st ten days also on ace and DMSO gel applied to coronet bands. Continued to deteriorate despite (or because?) of all this therapy.

6-29/99: second set of X-rays showed rotation of 8 degrees right, 2 degrees left, despite support of heartbar shoes.
July--left foot rotated to 8 degrees and became to worse foot. 7/27/99--X-rays showed 8 degree rotation on both forefeet.
7/30/99--Coronary grooving done by vet who specialized in lamintis. Put on antibiotics for a month following the grooving. Immediate deterioration, and began to be down all the time. This vet recommended to not reset the heartbars, to avoid trauma to the hoof due to resetting the shoes, even though they were "due" (8 weeks) and the heels were already pretty high. The rationale for this grooving was to reduce pressure on the coronet band in the toe area from the rotated toe levering into it by grooving. What is appalling is that I believe the whole thing could have been accomplished much cheaper, easier and less traumatically by simply lowering the heels and backing up the toes. Backing up the toes so they were not actually touching the ground center front could have prevented the top of the toe wall from levering into the coronet, and lowering the heels would shift weight and pressure off the toes.
The edges of this grooving impaired circulation and created a lot of swelling--see photos: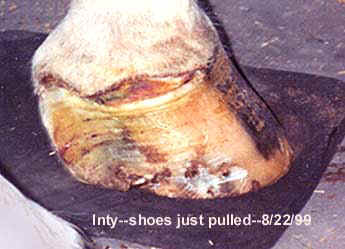 8/22/99-Frank Orza first pulled the shoes, and prior to trimming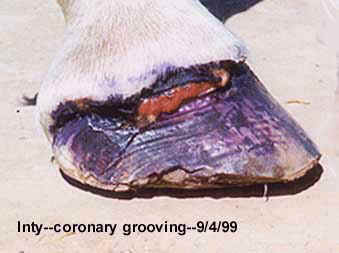 9/4/99--Beginning to work on lowering heels. Grooving not healing.
9-24-99--Grooving causing swelling....corium prolapse.
Yvonne had been reading my site for a while, but had been afraid to take the plunge. However, the conventional treatment was obviously not working, and the mare was down more and more after the grooving. She ordered Jaime Jackson's and Dr. Strasser's books in August. Reading these prompted her to turn the mare out to pasture 8/19/99. Constant movement in the field resulted in immediate reduction in soreness. Began weaning off bute as well. As the trim got closer to the Strasser trim and the horse kept moving, the mare was up more and more, and feeling progressively better. End of September--her husband flew up to Canada to learn the Strasser trim from Sabine Kells first-hand. The trim has been improved, and Inty is doing better all the time, moving better. Although there have been ouchy periods of abscessing, the general trend has been up.
What is interesting is that although both feet were equally rotated, the one with the grooving is improving a lot slower than the one that wasn't grooved.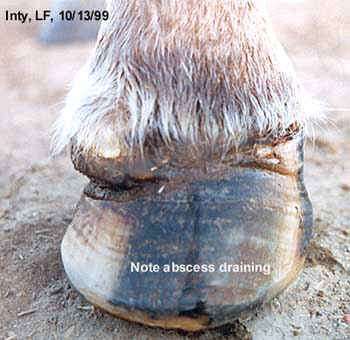 Left fore, October 13, 1999--still swollen, abscesses draining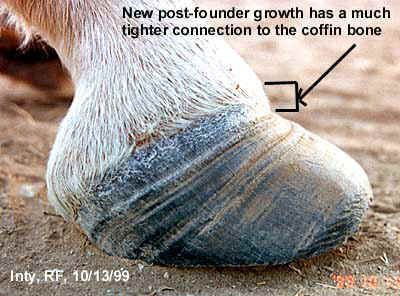 Right fore, which had the same amount of rotation, healing faster.
New growth lines more parallel, showing faster toe growth.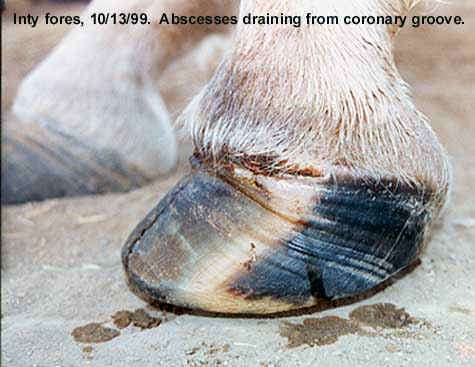 Abscesses draining from coronary groove, October 13, 1999
New growth lines still fanned out, indicating slower toe growth.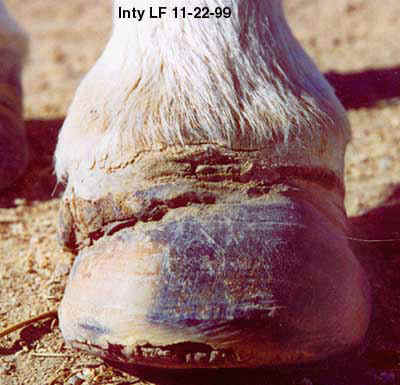 Progress at last! Swelling starting to go down,
and resection growing out--Nov. 22, 1999
(Application of propulis tincture speeded healing of proud flesh.)
Updated photos of Inty, from January 16, 2000: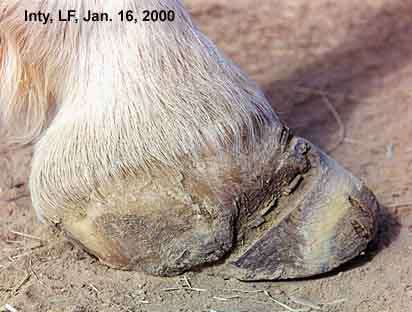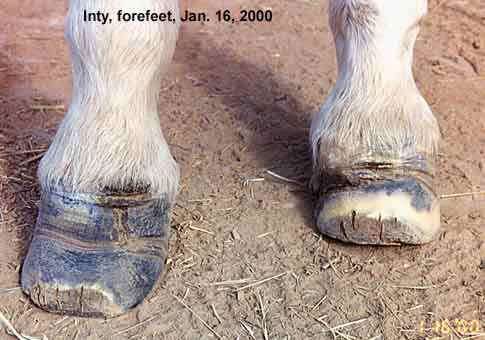 At last! Swelling down on the left fore, where the grooving had been done. The new toe wall growing in above the founder ridge shows that the laminitic attachment is tighter. However, please note that the toe is growing much faster on the right side, which had not been grooved.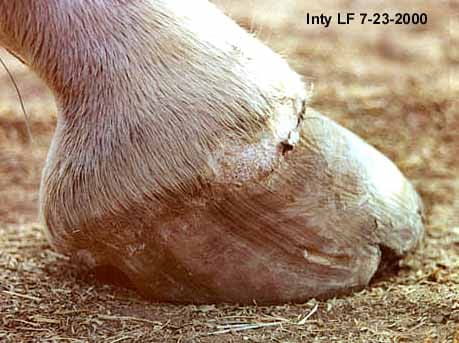 Inty, LF, July 23, 2000--more progress!
As of August, 2000, Inty is sound on all her feet except the LF, which continues to be sore off and on.
As I get updated photos, I will add them. Yvonne Welz can be reached at editor@thehorseshoof.com
Eventually, Inty was put down.